Be our franchise partner!
The purpose of any business is to generate profit in a secure way. The Fornetti Franchise system enables you to enlarge the range of your existing business or start up new profitable business with minimum investment and no risk.
The key to a well functioning point of sale is a room located at the busiest point in the settlement (the city centre, near a school, bus stop, health institution, etc.). Within a pre-arranged personal meeting, our colleagues assess the location of the premises and its interior design and provide detailed information about the expectations and opportunities. If the conditions of accession are acceptable to both sides, cooperation agreement could be concluded.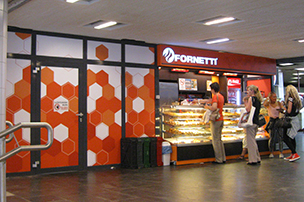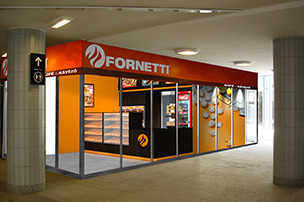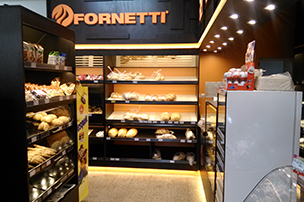 We can help with a turn-key construction of the point of sale. Having made precise technical measurements, our specialists design the point of sale in consultation with you, so that it optimally meets the technoligical and business goals. Implementation, which is controlled and coordinated by Fornetti, starts on the basis of the plans approved and accepted..
After the point of sale is delivered, the staff is trained by our colleagues on the spot. Our colleagues are in the point of sale from the moment the request is placed, at the opening of hte point of sale in the morning, during the working ours throughout the day, helping, training the staff of the point of sale so that you could generate as much profit as possible.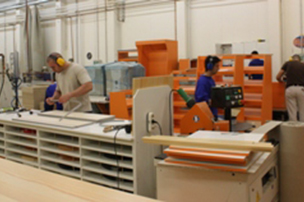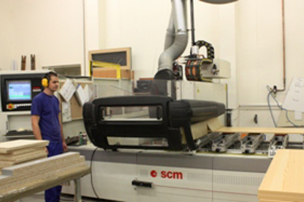 Day by day millions of people across Europe consume the products of Fornetti. Adapting to the needs of our customers we place emphasis on the continuous renewal of our range of products.
The quality of our products has to comply with a number of requirements, amongst others with the governing rules and regulations being in force, the expectations of the Customers, and also with food safety regulations.
The franchise system of Fornetti enables you to safely extend the product range of your existing store with a small investment, or to start a new, profitable business.